Hi! It's Nathalie!
My mom asked me to write this blogpost about the glamping weekends we've hosted at Old Silver Shed for 2 years in a row now. The first was a combination undergrad/grad school party. My friends and I all left our senior year of college in a rush as the pandemic started, and we graduated on a zoom call, not together! Then I went off to grad school in the UK, so it was more than a year since we had last seen each other. It was time to celebrate our accomplishments together! Today I'm sharing with you how the idea came to be, and everything you need to create your own Glamping Party!
Trying to book a place for Fourth of July weekend on Cape Cod is next to impossible, unless we wanted to reserve it for 2026! It is the official kick off of summer: tourists wait for hours to funnel their way across the Bourne and Sagamore bridges to their destinations. I went through the list of all the local hotels/motels/airbnbs/B&Bs etc and came up with nothing.
I considered having some guests stay here and some in town at my Aunt's home but that wasn't ideal. We were all concerned about drinking and driving. And having people coming and going at all hours would make the group feel disjointed.
If necessity is the Mother of Invention, creativity must be the Father! We thought, isn't our property a place that could accommodate everyone?
With Mom, it's always easy to get creative. She's able to take a concept like camping and turn it into glamping with ease. I knew my friends would be in good hands and would welcome the idea of staying in decked-out tents at Old Silver Shed.
We decided to create the ultimate summer camp experience at home. "Glamping" has since become a time dedicated to catching up with close friends (in close quarters). It allows us to revisit our childhoods and reminds us of hours spent outdoors -– whether it's on walks to get ice cream, tanning on the beach, exploring the marsh, swimming in the waves, swinging on the tree swing, sunset photoshoots, dancing on the deck or battling in a cornhole competition.
Just like everything else at Old Silver Shed– we built our Glamping experience From Scratch.
We decided to set the camp on a strip of land in our woods with a high canopy of trees, necessary for shading the tents from direct sun. It was important to find a spot close enough to the house that guests could access the bathroom easily. (The first year we leased a portable restroom, but found it was a waste-Pun definitely intended!) We spent two days mowing and clearing leaves, sticks, poison ivy, and debris from winter storms; the woodsy area overlooking the salt marsh became an ideal, flat, comfortable setting.
We strung outdoor lights throughout the trees, matching those on the deck, to make the setting feel like an extension of our outdoor entertaining space. We also took the time to run extra long extension cords from the house to give each tent access to electricity, which allowed guests to charge their phones and re-inflate their air mattresses if need be (the mattresses have built in electric inflation pumps!)
For our purposes, we decided on four 10 person tents (tall enough to stand in) with room to fit two queen sized air mattresses per tent, each tent would accommodate 4 people. The beauty of these air mattresses are they are 18″ deep so there is no need for a platform. Because we can never trust the weather in New England, we made sure to get tents durable enough to withstand wind and storms.
Once the tents were laid out, we began accessorizing the inside-the fun part! We didn't worry too much about making each tent identical to the others– there is a nice spontaneity that comes from having unique elements in each tent. It helps to customize the experience and, more importantly, identify one tent from another (especially at bedtime after a few too many Stateside Vodka Limeades on the deck). We inflated the air mattresses in the house and carried them out to the tents because it was easier.
We made up the beds with sheets, pillows, and comforters. We chose down-alternative comforter that is cozy enough to feel like sleeping at home, but durable enough for humidity and outdoors. (Also ideal for throwing in the wash before and after.) We collected unique little tables my mom had around the house, and placed them in between the two beds, not only for practicality but also to add a "homey" cottage charm. We used paper lanterns with battery operated remotes to provide lighting and ambiance for night time. In some tents we added fairy string lights and metal lanterns to bring a little sparkle in.
We positioned a natural jute mat inside the entrance of each tent to help eliminate dirt and sand and to encourage shoes off inside. But the cordless vacuum was the true hero for keeping the tents clean. In one corner of each tent, we added a cute a little folding chair so friends from other tents could mingle. Outside each tent we stationed wicker baskets as trash cans to help keep the property clean.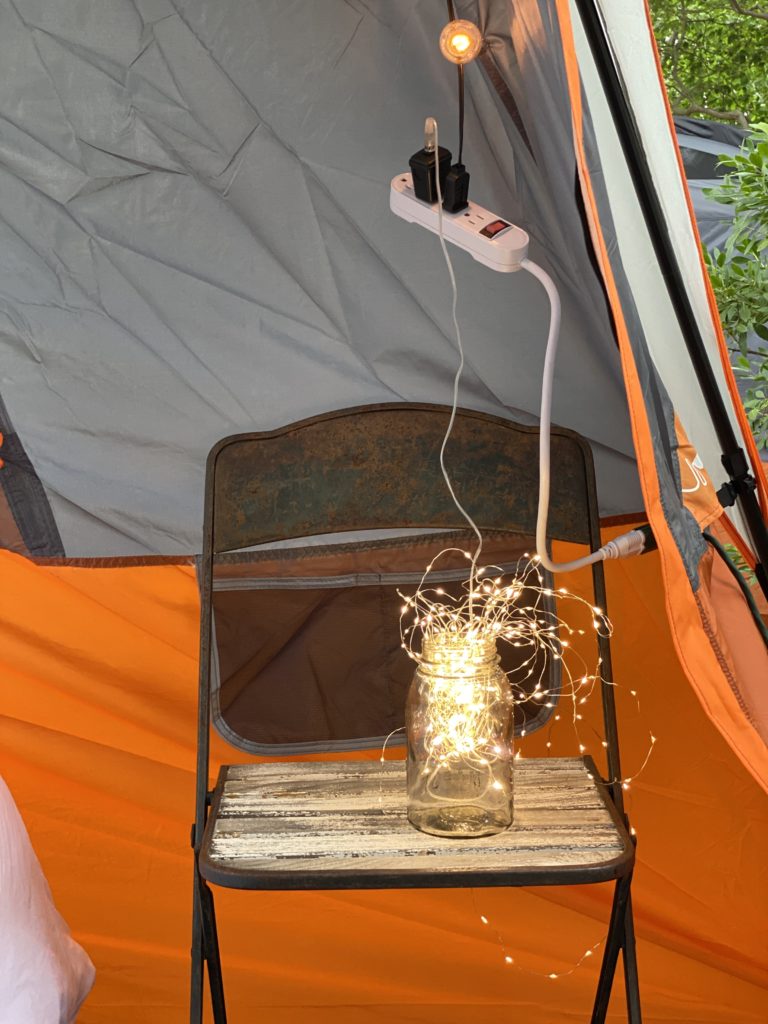 As guests filtered in we provided welcome gifts so no one had to worry if they forgot something at home. We filled canvas print totes with weekend necessities– everything from a set of shower towels, a travel set (that included a toothbrush, travel-sized toothpaste, travel shampoo and conditioner, body wash, body lotion) a beach towel and sunscreen, and of course, bug spray.
The canvas bags made it easy for our guests to stay organized, carry their toiletries to and from the showers, and then transition to beach bags for the afternoon. The convenience of our outdoor showers, equipped with 2 shower stalls, offered everyone a true Cape Cod summer experience, and facilitated getting our group ready for evening fun.
Throughout the weekend we had planned activities, like trips to town for a cloudy day, and easy beach days when the weather was nicer. One night we ordered take-out from a local spot, the Lobster Trap, and ate outside on our covered porch facing the beach. We played games like Fishbowl and Corn Hole, and roasted S'Mores around the OFYR grill before heading to a local bar for live music.
Another night, my dad and brother tag-teamed at the pizza oven to create an array of "community pies" and we shared slices around the firetable.
The last night, the finale, was our Fourth of July Deck Party (we will share the amazing recipes my brother created in our next blog post). This year we invited our neighbors to join us on the back deck for food, drinks and dancing since the tents are something of a curiosity for them!
Glamping has been a huge hit for two summers in a row. The tents have now become a symbol of summer at Old Silver Shed. Last year we left the tents up all season, many of our weekend visitors stayed in the tents, especially after late nights around the firetable.
As summer turns to fall, we add sheepskins, wooly blankets and hide covered stools for a luxe, European vibe and this allows us to hang on to our "season" a bit longer.
Seeing the tents set up in the yard, day or night, is magical- my mom sometimes will head into one with her book for an afternoon break and it's not unusual to find my dad there napping after a bike ride!
This new Glamping tradition is a great way for me to enjoy entertaining all of my friends and have them experience life here at Old Silver Shed! Even my parents have a great time!
I hope this post helps you to transform your yard into the perfect summer glamping experience for your guests or your very own "staycation."
Happy Glamping,
Nathalie
You can shop all the products we used on my #LTK
Tap here to see the Tent Set Up
Tap here to see Deck Party Set Up
Tap here to see Glamping Weekend Necessities
Tap here for Pizza Night tools
Tap here for some of the Fun Garden Games we played
Tap here for some of my Favorite Casual Weekend Fashion Looks